DEVOTION
EAU DE PARFUM
Dolce&Gabbana's unconditional and unquestionable devotion to style, work, detail, and the idea of fashion itself, which lives on through craftsmanship and passion, genius, and imagination, is a form of pure love narrated by unique and timeless creations. Today, alongside this universe of meanings, comes the perfume of true devotion. Devotion Eau de Parfum is the essence that celebrates the beauty of the noblest values of life, the spark that gives meaning to one's passions, and the gratitude and generosity at the core of every worthwhile relationship to be cherished in one's heart. The Sacred Heart, among the most iconic symbols of Dolce&Gabbana's artistic production, a tangible and universal sign of love in all its forms and shades, returns to illuminate the latest olfactory creation with its unmistakable embellishments, to express a new exciting chapter of Dolce&Gabbana Beauty.
THE CAMPAIGN
Capri's Marina Grande and its characteristic pier; crowded with old fishing boats, the scent of orange blossoms, the noise of the festive crowd. And suddenly, a glance. The Devotion Eau de Parfum film stars Katy Perry vacationing on the azure island on a sunny Mediterranean day. Arriving at the pier, Katy catches the fleeting gaze of Michele Morrone, who plays a young local fisherman. Right at that moment, their destinies cross. They meet again at a party later, still accomplices of their passionate glances. It is the beginning of a story of love and devotion, sealed, like a precious casket, by the Sacred Heart.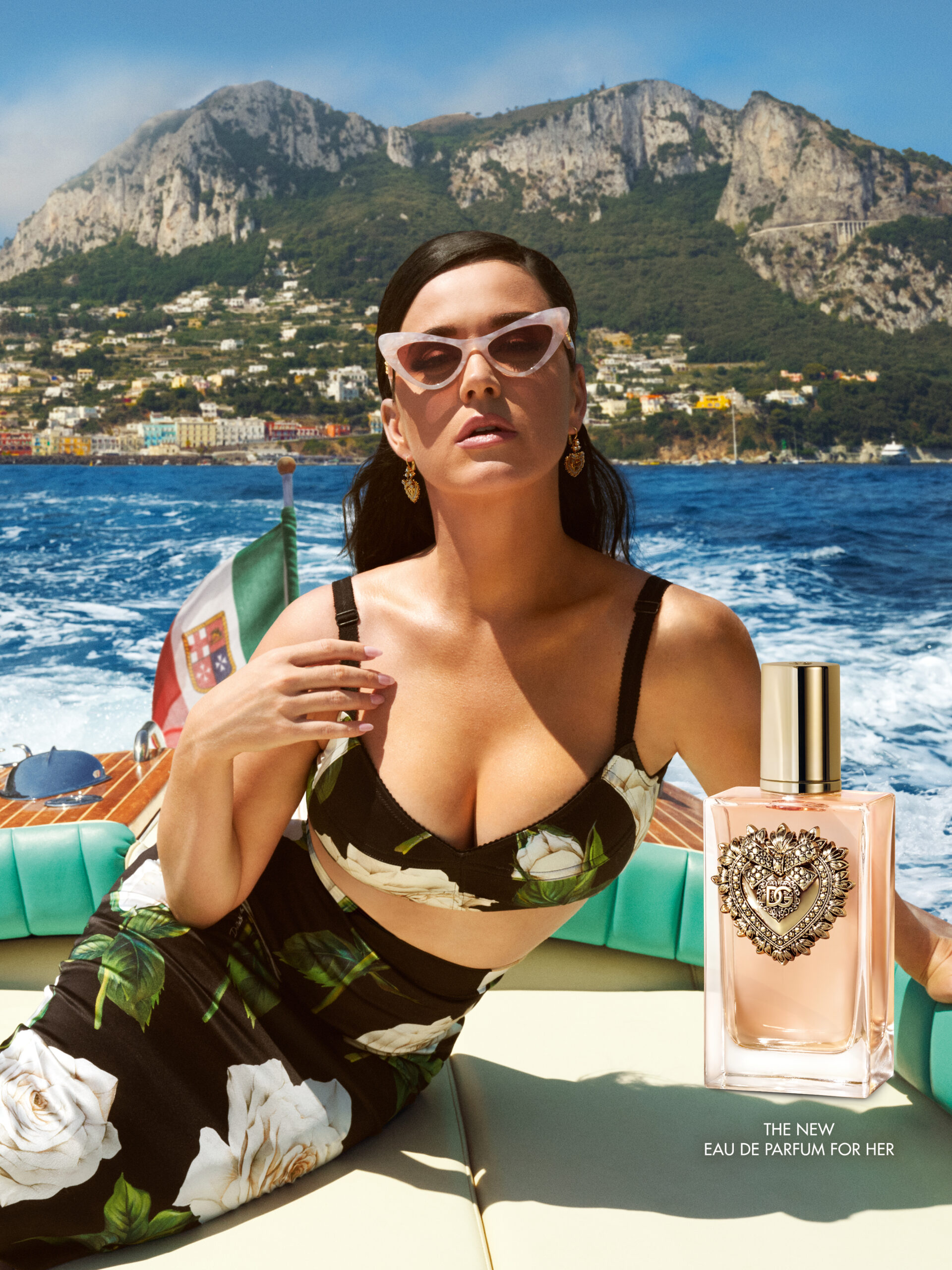 THE FRAGRANCE
Devotion Eau de Parfum is the first luminous and gourmand fragrance by Dolce&Gabbana. With a name as evocative as its composition, the fragrance is a powerful expression of the brand's DNA. Its olfactory notes, enclosed in a precious bottle sealed by the Sacred Heart, transport the mind to joyful Italian atmospheres. Made in Italy with raw materials of excellence, per the rigorous standards of high perfumery, Devotion is born from the intuition and experience of Olivier Cresp. The renowned master perfumer expertly captures the quintessence of Italianity in an olfactory creation of exquisite contrasts, luminous in the top notes and sensual in the base notes, where the freshness of orange flowers meets the sweetness of Madagascar vanilla, while candied citrus gives a tempting gourmand touch. Devotion is an enveloping, seductive, and reassuring sensory journey, evoking the positive values dear to Dolce&Gabbana, all embodied by the Sacred Heart. The precious symbol is the distinctive element of the bottle – where it is reproduced in three dimensions in antiqued zamak – and of the packaging, transforming the new fragrance into a small masterpiece of style and craftsmanship.